by Lee Stranahan
The Populist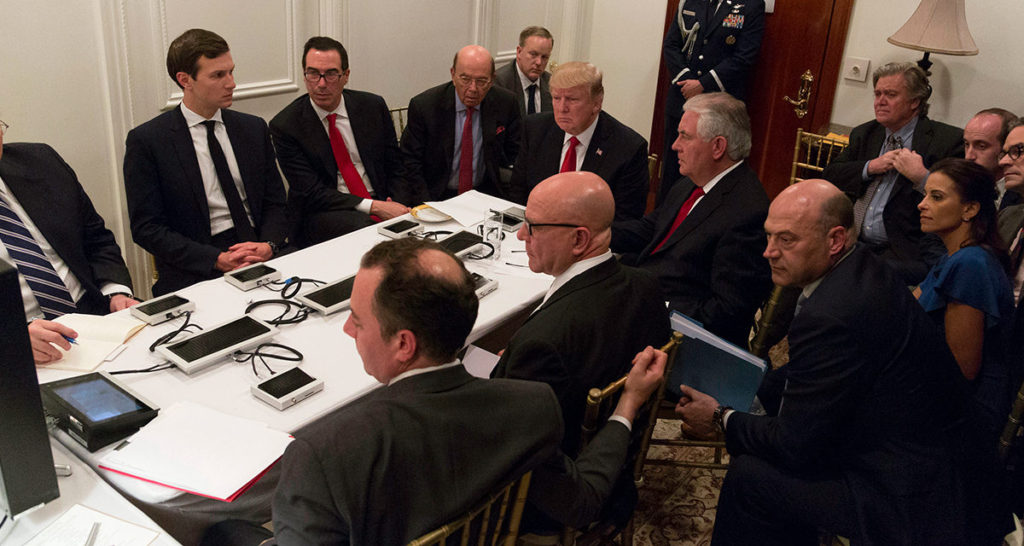 Introduction
This timeline shows in chronological order the ascendency into power of a group of key advisors connected to Ivanka Trump and her husband Jared Kushner, and how it relates to various policy positions, including the recent missile strike into Syria.
We've recently written about two of the key players, Dina Powell and Gary Cohn, so please visit this page for more info on their backgrounds and connections.
The Timeline
December 12, 2016: Gary Cohn named to White House
Trump Names Goldman President Gary Cohn Director of National Economic Council
WASHINGTON—President-elect Donald Trump announced Monday that he was appointing Goldman Sachs Group Inc. President and Chief Operating Officer Gary Cohn as director of the National Economic Council, a position that will make him one of the most influential voices on economic decisions in the White House.
January 9: Jared Kushner is named as a senior advisor to the president
Jared Kushner Named Senior White House Adviser to Donald Trump
Jared Kushner will become a senior White House adviser to his father-in-law, Donald J. Trump, cementing the New York real estate executive's role as a powerful and at times decisive influence on the president-elect.

Mr. Kushner, 35, who married Mr. Trump's daughter Ivanka in 2009, is closer to Mr. Trump than any other adviser, a steady and stabilizing presence inside an often chaotic transition team who has provided input on most of his father-in-law's most consequential hiring and firing decisions.
January 12: Dina Powell, advisor to Ivanka Trump, named to position on entrepreneurship
Meet Dina Powell, Ivanka Trump's woman in the White House
Goldman Sachs executive Dina Habib Powell is joining the Trump administration in a senior role focused on entrepreneurship, economic growth and the empowerment of women.

President-elect Donald Trump's transition Team announced the position for Powell, 43, who previously served in the Bush White House and State Department, confirmed the new position to CNN Wednesday, which was first reported by Politico.
January 13: Flynn's contact with Russian ambassador revealed
Michael Flynn in frequent contact with Russia's ambassador to U.S.
A senior U.S. official says the Obama administration is aware of frequent contacts between President-elect Donald Trump's top national security adviser and Russia's ambassador to the United States, and Trump transition spokesman Sean Spicer revealed what was talked about on some of the calls.

The administration official said the contacts happened on the day President Obama expelled dozens of Russian officials from the U.S. and imposed sanctions as punishment for election-related hacking, Dec. 29.
February 4: Yahoo reports on Obama administration official targeting Trump officials
Obama's White House alumni fight Trump tweet for tweet — earlier and harder than ever before
In the days since Trump assumed the presidency, an increasingly ardent and even aggressive army of formerly buttoned-up Obama administration alumni — aides, advisers, speechwriters, spokespeople — have taken to their own social media platforms to rail, loudly and publicly, against pretty much every move Trump has made, undaunted by his 23.5 million followers and determined to tweet fire with fire.

This is a new development in American politics.
The list of former Obama staffers involved in this campaign includes:
February 13: Michael Flynn resigns
Michael Flynn Resigns as National Security Adviser
Michael T. Flynn, the national security adviser, resigned on Monday night after it was revealed that he had misled Vice President Mike Pence and other top White House officials about his conversations with the Russian ambassador to the United States.
February 20: McMaster named as National Security Advisor
Trump Names Lt. Gen. H.R. McMaster as New National Security Adviser
President Donald Trump on Monday named Army Lt. Gen. H.R. McMaster as his national security adviser, a week after Michael Flynn resigned from the post.

During a news conference at his Florida resort, Trump said McMaster was "highly respected by everybody in the military" and is "a man of tremendous talent and tremendous experience."
February 25: McMaster rebukes phrase "radical Islamic terrorism"
Trump's new national security adviser: Saying 'radical Islamic terrorism' is counterproductive
In his first group meeting at the National Security Council as President Donald Trump's national security adviser, Lt. Gen. H.R. McMaster reportedly said using the term "radical Islamic terrorism" was counterproductive, The New York Times reported Friday night.

McMaster delivered his remarks on Thursday, nearly one week after Trump appointed him, replacing Gen. Michael Flynn, who frequently echoed Trump's use of the controversial term.
February 28: Trump uses phrase "radical Islamic terrorism" in speech
Trump refers to 'radical Islamic terrorism' despite NSC pushback
Washington (CNN) President Donald Trump warned of "radical Islamic terrorism" in his address to Congress Tuesday night — despite pushback from his national security adviser.

Newly minted national security adviser Lt. Gen. H.R. McMaster urged Trump to leave the reference to "radical Islamic terrorism" out of the speech, according to a senior administration official. The two men had a discussion about it but Trump decided he would do it anyway.
February 28: Seb Gorka tweets about "radical Islamic terrorism" — tweet is later removed.
http://twitter.com/SebGorkaTweets/status/836766210469548036
Dina Powell's close associate Valerie Jarrett moves in with the Obamas
Barack Obama's close confidante Valerie Jarrett has moved into his new DC home, which is now the nerve center for their plan to mastermind the insurgency against President Trump
Barack Obama is turning his new home in the posh Kalorama section of the nation's capital – just two miles away from the White House – into the nerve center of the mounting insurgency against his successor, President Donald J. Trump.

Obama's goal, according to a close family friend, is to oust Trump from the presidency either by forcing his resignation or through his impeachment.

And Obama is being aided in his political crusade by his longtime consigliere, Valerie Jarrett, who has moved into the 8,200-square-foot, $5.3-million Kaloroma mansion with the former president and Michelle Obama, long time best friends.
Goldman Sachs partner to join Trump administration
An Egyptian-born, Dallas-raised, fluent Arabic speaker, Powell also has strong relationships with senior Democrats including outgoing Obama White House senior adviser Valerie Jarrett and former Obama economic adviser Gene Sperling, among many others.
March 8: AHCA Introduced
Energy and Commerce Republicans Release Legislation to Repeal and Replace Obamacare
Today, House Energy and Commerce Committee Chairman Greg Walden (R-OR) released legislation as part of House Republicans effort to repeal and replace Obamacare through a budget process known as reconciliation. The legislation, part of House Republicans' American Health Care Act, creates a new and innovative Patient and State Stability Fund to help low-income Americans afford health care and to repair the damage done to state insurance markets by Obamacare. Additionally, the legislation lays out a plan to responsibly unwind Obamacare's Medicaid expansion while prioritizing the program's funds to the most vulnerable through a per capita allotment.
March 10: Gary Cohn v. Peter Navarro in trade war
White House civil war breaks out over trade
A civil war has broken out within the White House over trade, leading to what one official called "a fiery meeting" in the Oval Office pitting economic nationalists close to Donald Trump against pro-trade moderates from Wall Street.

According to more than half a dozen people inside the White House or dealing with it, the bitter fight has set a hardline group including senior adviser Steve Bannon and Trump trade adviser Peter Navarro against a faction led by Gary Cohn, the former Goldman Sachs executive who leads Mr Trump's National Economic Council.
March 15: Dina Powell promoted to Deputy National Security Advisor
What Dina Powell's promotion to the NSC means
National security adviser H.R. McMaster has been on the job for less than a month, but the changes at the National Security Council already signal it will play a markedly different role under President Donald Trump than his predecessors.

No decision makes that clearer than Dina Powell's promotion from advising first daughter Ivanka Trump, to the NSC, where she will become deputy national security adviser for strategy. She will keep her role advising the President on economic initiatives.
March 20: Ivanka given a White House office
Ivanka Trump set to get West Wing office as role expands
Ivanka Trump, who moved to Washington saying she would play no formal role in her father's administration, is now officially setting up shop in the White House.

The powerful first daughter has secured her own office on the West Wing's second floor — a space next to senior adviser Dina Powell, who was recently promoted to a position on the National Security Council. She is also in the process of obtaining a security clearance and is set to receive government-issued communications devices this week.

…

Trump's role, according to her attorney Jamie Gorelick, will be to serve as the president's "eyes and ears" while providing broad-ranging advice, not just limited to women's empowerment issues. Last week, for instance, Trump raised eyebrows when she was seated next to Angela Merkel for the German chancellor's first official visit to Trump's White House.
March 24: AHCA pulled before vote
In Major Defeat for Trump, Push to Repeal Health Law Fails
House Republican leaders, facing a revolt among conservatives and moderates in their ranks, pulled legislation to repeal the Affordable Care Act from consideration on the House floor Friday in a major defeat for President Trump on the first legislative showdown of his presidency.

"We're going to be living with Obamacare for the foreseeable future," the House speaker, Paul D. Ryan, conceded.

The failure of the Republicans' three-month blitz to repeal President Barack Obama's signature domestic achievement exposed deep divisions in the Republican Party that the election of a Republican president could not mask. It cast a long shadow over the ambitious agenda that Mr. Trump and Republican leaders had promised to enact once their party assumed power at both ends of Pennsylvania Avenue.
March 31: Trump attacks Freedom Caucus in series of tweets
Trump calls out Freedom Caucus members in tweetstorm
President Donald Trump has gone public with his war against the House Freedom Caucus, pushing into full view growing frustration shared by House Speaker Paul Ryan less than a week after the GOP health care bill crashed amid feuding between rival Republican factions.

Trump targeted conservative House members within his own party in a tweet Thursday morning that told his supporters "we must fight" the House Freedom Caucus as well as Democrats next year.

"The Freedom Caucus will hurt the entire Republican agenda if they don't get on the team, & fast. We must fight them, & Dems, in 2018!" Trump tweeted.
April 5: Bannon removed from principals on NSC
Bannon Taken Off Trump National Security Council in Shake-Up
President Donald Trump reorganized his National Security Council on Wednesday, removing chief strategist Stephen Bannon from a key committee and restoring the roles of top intelligence and defense officials, according to a person familiar with the decision and a notice published in the Federal Register.

The realignment increases the influence of National Security Adviser H.R. McMaster, whose public stances were sometimes at odds with those of Bannon. In addition to gaining greater control over the NSC, McMaster will have the Homeland Security Council under his authority.
April 6: Trump launches missile strike on Syrian airbase
Trump launches military strike against Syria
The United States launched a military strike Thursday on a Syrian government airbase in response to a chemical weapons attack that killed dozens of civilians earlier in the week.

On President Donald Trump's orders, US warships launched 59 Tomahawk cruise missiles at the airbase that was home to the warplanes that carried out the chemical attacks, US officials said.
April 9: K.T. McFarland pulled off National Security Council
McFarland to Exit White House as McMaster Consolidates Power
K. T. McFarland has been asked to step down as deputy National Security Advisor to President Donald Trump after less than three months and is expected to be nominated as ambassador to Singapore, according to a person familiar with White House personnel moves.

The departure of the 65-year-old former Fox News commentator comes as Trump's second National Security Advisor, H.R. McMaster, puts his own stamp on the National Security Council after taking over in February from retired General Michael Flynn.