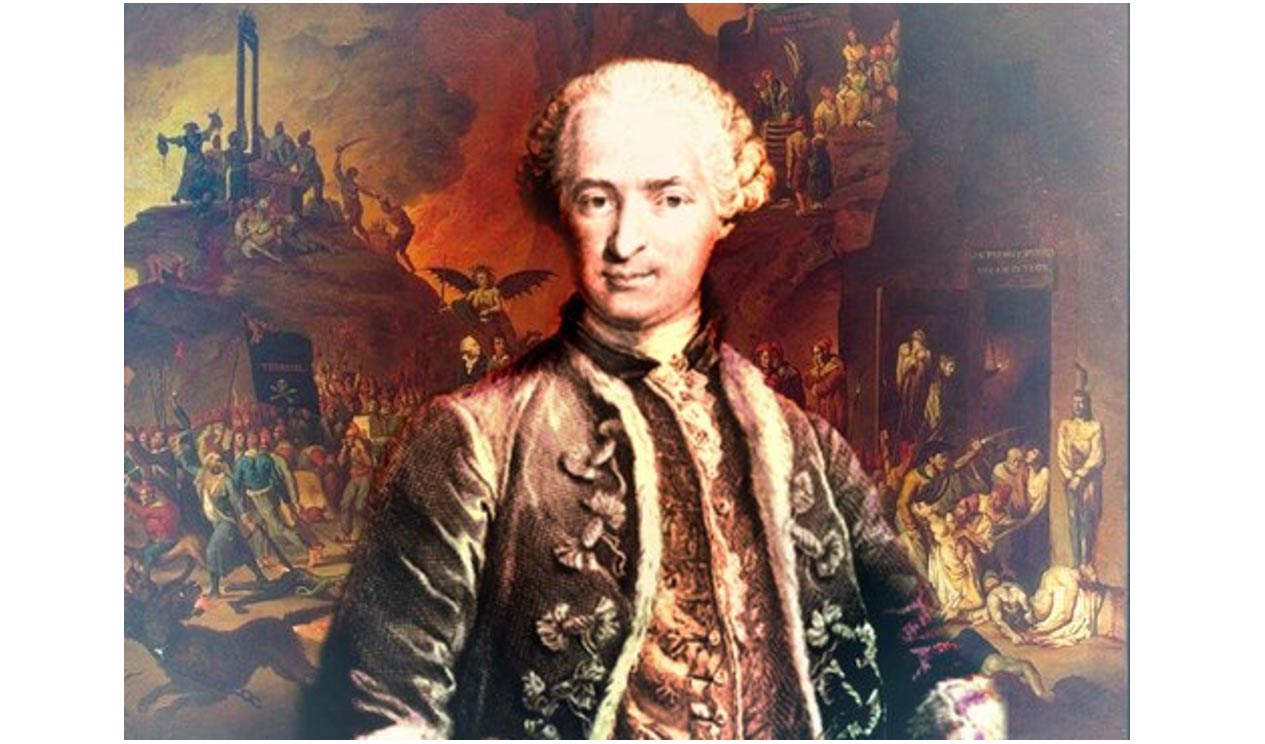 by RYAN STONE
The Historical Count of Saint-Germaine: Elusive, Enigmatic and Eternal
The Count of Saint-Germaine is undoubtedly one of the most enigmatic characters from history. Considered by many to be either immortal or continuously reincarnated, he survives in all accounts as a great mind, an alchemist, and a Rosicrucian—a member of a secret society that believed the world is built on mysterious truths from the past which are hidden from the average man. The pattern of his life, however, is one that is surrounded in mystery, and much of his background is questionable to say the least.
Born in 1710, there are two explanations for Saint-Germaine's parentage. The first, circulated by himself as he lay on his deathbed, is that he was the third son of Prince Ferenc Rokoczy II of Hungary and an unknown woman. Further to this theory, he is believed to have been raised and tutored by the wealthy Medici banking family of Italy, explaining his astounding intellect as an adult. The second possibility of his birth is that he was born to an unnamed Portuguese Jew.  However, neither version of his origins can be known for certain, as there are no birth or funeral records of the count, and the count's real name is unknown. "Saint-Germaine" was a pseudonym he derived for himself.
The famous and extremely powerful and influential Medici family of Italy, is believed to have raised and tutored Saint-Germaine, Photo from ( toptenz.net)
The Count of Saint-Germaine (Comte de Saint Germain) shows up in numerous places throughout his lifetime, making friends and enemies all over Europe. He was well-known for his intellect, talents, and royal affiliations, and is considered to have dressed well, with a ring on every finger, and a constantly powdered wig. Such dressing denoted a wealthy upbringing, and the former consideration that he was the son of a prince, boded well for his political affiliations. Saint-Germaine was considered a charming man, adept at painting and music, able to speak up to ten languages—most of the prominent ones of Europe—fluently.
Saint-Germaine created a stir of curiosity during his lifetime in numerous ways, most evidently because he is recorded as never having been seen eating or drinking in public, yet still remaining in absolutely perfect health. He told the infamous Giacomo Girolamo Casanova of Italy that he only ate a secret type of food (considered by some to be an age-defying elixir) which had allegedly kept him alive for over three hundred years, so contemporary food was not necessary. He was also a curious figure because he had no apparent means of wealth, but was never wanting, making friends with high-status aristocrats and royals through undefinable means. In fact, Saint-Germaine's closest confidante was Prince Karl of Hesse-Cassel in the province of Schleswig-Holstein, the only man to whom he admitted his parentage and in whose home Saint-Germaine chose to die.
Painting of Prince Karl of Hesse-Cassel, painting by Anton Wilhelm Tischbein (1730-1804). ( Wikipedia.org)
Among Saint-Germaine's other closest supporters were some of history's favorite figures. He was arrested in London, around 1743, for being a highly wanted Jacobite spy. Catherine the Great was purportedly aided by Saint-Germaine in her becoming the Empress of Russia in 1762. Louis XV of France trusted Saint-Germaine so completely during his reign that he was the only one, save the king himself, allowed inside the rooms of Louis' favored mistress Madame de Pompadour. Furthermore, Louis XV had initially met Saint-Germaine because the king had requested his aid in diplomatic affairs. Saint-Germaine then purportedly went on to attempt to create peace between France and Britain during the Seven Years' War, failing to do so only because he was considered a suspicious figure by Charles Louis Auguste Fouquet, Duke of Belle-Isle.  The aforementioned Casanova was also an acquaintance of Saint-Germaine, and considered himself to be a fellow alchemist and Rosicrucian.  He also considered himself most clever until meeting Saint-Germaine, whose confession about being three hundred years old suggested he had far surpassed Casanova's skill in alchemy.
Saint-Germaine was said to have aided Catherine the Great in becoming the Empress of Russia, by F.Rokotov after Roslin (1780s, Hermitage). ( Wikimedia Commons )
King Louis XV of France, trusted Saint Germaine completely. Painting by Maurice Quentin de La Tour (1748). ( en.wikipedia.com)
Although Saint-Germaine's origins are not very well documented, the connections he made throughout his lifetime were such that they propelled him to the front of the historical records. A mysterious man of such accomplished talent and intelligence, Saint-Germaine could not be ignored by his contemporaries in Europe, nor can he be by modern scholars and researchers. The tale of the fantastical elements of Comte de Saint-Germaine continues in part two of this article, as a fascinating look into the secret society he believed in and the mystery behind his supposed immortality.
The Count of Saint-Germaine claimed many times to be immortal, apparently already three hundred years old by the time of his appearance in the 1700s. However, there is another more peculiar version of the story of Saint-Germaine revealed in historical records. It is believed by many that Saint-Germaine was an Ascended Master of Ancient Wisdom, the head of a theosophical belief system which thought people could be reincarnated to acquire wisdom that would eventually unify the spiritual and material aspects of the universe. These Masters supposedly achieved the same kind of ascension as did Jesus of Nazareth in the Bible. This theosophical faith continues to this day, and Saint-Germaine is still considered to be one of its masters.  His followers think that the historical man was actually reincarnated over and over again before his birth as Saint-Germaine, as various prominent figures in the historical timeline. These figures were all people of supreme importance, and all had a resounding, lasting effect on the history of the world.
The first supposed incarnation of the Count of Saint-Germaine is that of a High Priest of the Violet Flame temple, over fifty thousand years ago. It is said that he brought enlightenment to the people of that culture, bringing to them the concept of the cosmic consciousness, but that they abandoned that path for worldly delights instead. When this happened, the man who would be Saint-Germaine then left the tribe to succumb to their sins.  He is recorded next as the prophet Samuel from the Old Testament, who chose Saul to be king of the Israelites only to have Saul deny him. Then, Saint-Germaine was supposedly born as Joseph, Mary's husband and Jesus of Nazareth's earthly father. One of his most intriguing supposed incarnations, however, is that of the counselor, and possible wizard, Merlin of the court of King Arthur.  Evidently, there was a thin line between science and magic for certain followers of Saint-Germaine.
Some believe Merlin the Magician was an incarnation of Saint Germaine ( Andy / flickr )
The most widely accepted previous incarnations of Saint-Germaine began in the third century AD. He is considered to have been Saint Alban, the first British martyr for the Christian faith, who was beheaded for not giving away the position of the monk Amphibalus to Emperor Diocletian. He was viciously tortured before being killed, and is highly respected for enduring his torments patiently.
The martyrdom of St Alban, from a 13th-century manuscript, now in the Trinity College Library, Dublin ( Wikimedia Commons )
Shortly after his time as Alban, Saint-Germaine was reputed to have become Proclus Lycaeus, head of Plato's Academy in Athens. He began his adulthood as a successful lawyer before becoming disillusioned and traveling to Athens seeking philosophical tutelage. He next came to be known as Roger Bacon, a Franciscan and philosopher born in the thirteenth century. Roger Bacon was a firm believer in the Philosopher's Stone and an elixir of life, he amassed large groups of followers based on his passion and intellect alone.
Roger Bacon's circular diagrams relating to the scientific study of optics. By Roger Bacon also Saint Germaine, late 13 th Century. ( Wikimedia Commons )
His place of study became a pilgrimage site after his death, and legend spread that he was more than just a philosopher, but also some sort of wizard who had tricked the devil. By the nineteenth century, however, he came to be considered an eccentric scientist more than anything else.
Saint-Germaine's final and most powerful form was said to be that of Sir Francis Bacon, a member of Queen Elizabeth I's court. Francis Bacon is now considered as the father of empirical science, as well as the possible true author of most of William Shakespeare's play, although this is hotly contested. Most interestingly, however, some followers of Saint-Germaine believe that Francis Bacon faked his death on Easter Sunday in 1626, and then traveled in secret to Transylvania where he made his home until he ascended to Master on May 1, 1684.
Frans Pourbus the younger, Sir Francis Bacon is also said to be an incarnation of Saint Germaine. By Artist Paul Van Somer, 1616. Held at the National Portrait Gallery. ( Wikimedia Commons )
It was after this alleged ascension that Bacon requested one final form and returned to the world as the elusive Count of Saint-Germaine until his "death" in the eighteenth century.
– See more at: http://www.ancient-origins.net/history-famous-people/immortal-count-saint-germaine-ascended-master-ancient-wisdom-003125#sthash.Fvaa1q5g.dpuf
___
http://www.ancient-origins.net/history-famous-people/historical-count-saint-germaine-elusive-enigmatic-and-eternal-003124#sthash.nfOvyUbh.dpuf