Suiciding of Jeffrey Epstein was a highly calculated and well-planned government operation to permit his escape
SOTN Editor's Note: This Alt Media platform has investigated the following message that was posted on the very day that Jeffrey Epstein was suicided. There is every reason to believe that this message is authentic and was delivered out of shock on the part of the brave messenger. Now read his or her account for yourself as follows: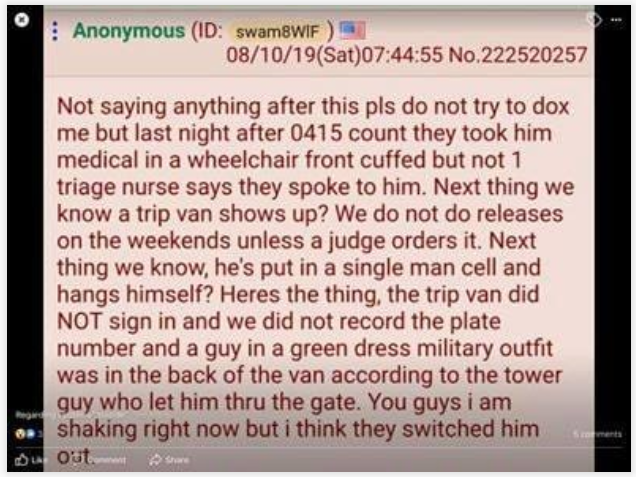 ---
The timing of the above Anonymous post by swam8WIF was made on Saturday, August 10, at 7:45 AM, just one and a quarter hour after Jeffrey Epstein was supposedly found dead in his cell at Metropolitan Correctional Center (See Wikipedia screenshot below).
Post No.222520257 above is clearly written by a prison guard or overnight clerk who was on duty that very night. The language is typical of an individual who really works at a correctional facility. That is was posted so soon after Epstein was found on the same day contributes to its authenticity.
The key point is that the portrayal of events shown above is the single most plausible story of how Epstein was vacated form the prison premises. Such a highly organized escape could only have taken place with the full knowledge and support of the prison administration, as well as the blessing of the DoJ. The AG's predictable and scripted reaction to this criminal conspiracy only contributes to the great likelihood of a government set-up.
---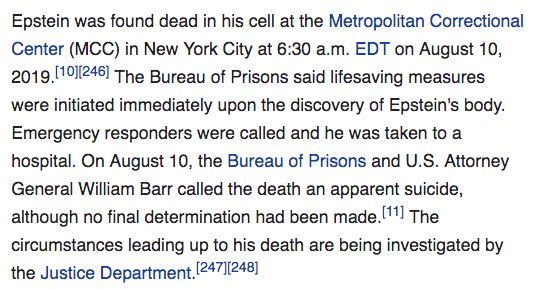 ---
___
https://www.agreenroadjournal.com/2019/08/epstein-high-security-metropolitan.html